I finally got a good contact driving home from the airport…N5S, one of 2 special event stations for the final Shuttle Launch (STS-135).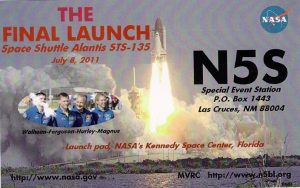 I was actually pretty surprised they heard me.  I was just about to go under an overpass before getting on the freeway.  The light turned red, but I heard him respond to me.  The signal started fading, but he turned the antenna my direction and BAM, there I was in the middle of a QSO with N5S.
What a great contact to be made commemorating the final space shuttle launch.  Awesome!  Got a 5-5 signal report even.  Not bad for a 100 watt mobile station between Portland, Or and Las Cruces, New Mexico…well…relative to the luck I have been having lately.
I was getting pretty frustrated with my inability to make contacts, but this gave me a little hope.  Lots more to try!
I did send away for the certificate and can't wait to get it.  I'll post it once it arrives.