I thought June 2017 was challenging with the rain and wind, but this year mother nature upped the ante with snow.
As usual, K7ALO and I got to the top of South Fork Mountain (el 4800 ft) early Friday afternoon to setup. We managed to get some of it done before the rain started pouring. Continuing in the rain and wind was a losing battle with masts falling and bending elements. Pro tip: Don't let go for even one second while trying to guy an antenna mast.
We decided to quit for the day, but at least we got the HF antenna up to play around with while warming up in the truck. Later that evening K7BDB/R joined us to camp out and start out his contest with us Saturday morning.
That night it rained all night long. Nothing like the loud sounds rain pouring on your tent to keep you awake at night. I'm pretty sure the branch directly above me was catching as much water as it could and then dumping it on me…all…night…long. I might have been able to get about 2 hrs of interrupted sleep. Saturday morning was going to be fun.
In the group:
Saturday morning we finished setting up in the rain/snow mix which eventually turned to just snow.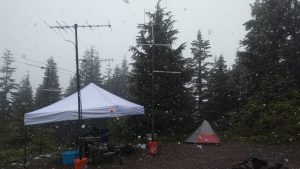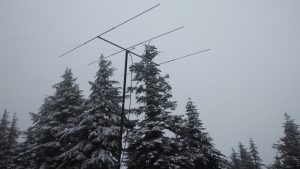 Here's a video of the setup:
Not much to report about the contest itself. It chugged along like always. No big Es openings from the NW  to report. I saw a couple quick openings, so it was nice to grab a few extra grids really quick. 6m opened and closed quickly.  I was also happy to make my first CW contact in a contest with WB7TIM on 70cm. Voice just wasn't going to cut it, so we tried CW. We're both equally slow at CW so that made it easy for us (…. ..  …. ..). I was a little disappointed in microwave operations. I had a heck of a time making any contacts. Just a handful on 33cm and 23cm. There were a lot more people on those bands, I just couldn't make contact. I have a feeling it had to do with the wet trees surrounding us and the high level of precipitation.
I took a picture of the 6m Yagi on Saturday night as the clouds were blowing through. I thought it was kind of cool.
Sunday started off kind of slow but it picked up. Precipitation was mostly snow since the night before so it was a really cold day. We would use the vehicles to warm up in while the laptops were calling CQ on 6m FT8.
Here's a closer look at the radio setup:
We ended our efforts around 3:30pm on Sunday. We were done with the weather. Snow turned to rain which means the 2 hour tear down of camp was especially wet. But when it was all said and done, we were happy with the results and had a lot of fun.
I had a lot of issues with N1MM logger. I was able to get WSJT-X to send contacts to N1MM and it would log them just fine. The problem came to scoring. N1MM would give me 0 points. I straightened things out (I think) when I got home, but we'll see what the ARRL scoring machine says. By my count, I ended with 194 Q's, 34 Mults for 9,078 points. I feel pretty good about that considering the challenges of being on a 5,000 ft hill in June(uary).