This was the contest to remember…and not for the reasons you'd think. It was not a fun one, but I stuck it out despite the problems…and I'm glad I did.
The morning started out as expected and I was heading to the same area near Davis Peak that our group usually goes. I met up with K7BDB/R at the gas station in Woodland so we could drive up together. He had a couple new spots he scouted out and wanted to show me.
The snow level was forecast to be 2500 ft. Guess what we found when we got there…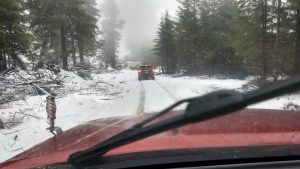 No big deal. We got to the spots and honestly I couldn't tell what the views were like. We were in the clouds. Although I trust Britt, I just couldn't see myself setting up in the snow, let alone staying all night.
I opted to head back down the road to our normal operating spot in CN85 and he stayed and activated CN86.
Let the games begin…
I got to the operating spot and started pulling stuff out. It was raining so it was extra fun.  And then I saw it. My brand new dual band 2m/70cm beam that I had built the night before with 2 broken VHF elements. I spent the next hour and a half working to get that mended back together. Amazing what you can do with random stuff when it's all on the line.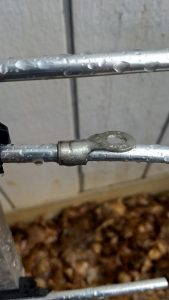 I have no idea why I had these, but I'm glad I did. I found 2 ring terminals for fat gauge wire and managed to jam the elements inside. Then I used pliers to "crimp" them together. After that, I gently wrapped electrical tape around the joints to help it hold.
Once I got them where I needed them on the boom, I used zip ties and more tape to hold them in place. I am amazed they lasted the whole weekend.
Moral of the story, make sure your cement buckets are properly secured. Next time I'll just assemble it in the field.
After averting contest disaster, I set the rest up rather quickly and was on the air. I missed the early rush, but better late than never.
Once I got everything up and going it was like a beautiful Ham Sexy mess…inside and out.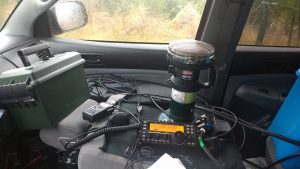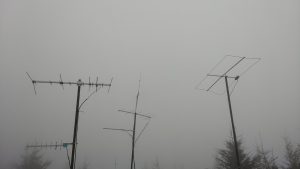 Inside
"Ammo Cansverter" (Transverters for 222, 432, 903, 1296)
Kenwood dual-band HT (for 2m/70cm FM)
Elecraft KX3 (for 6m, 2m SSB, transverter IF)
Kenwood TK-481 (for 927.5 FM)
Outside
2m/70cm Beam (5 el on 2m/8 el on 70cm)
33cm Yagi
Comet mobile antenna with ground plane kit
222 Yagi
23cm Yagi
6m Moxon (Built by K7BDB)
K7BDB/R joined me an hour or so after I finally go up and running. He came down the road to activate CN85 and stayed with me until it was almost dark before heading north toward CN87 for the night.
While there, he had the pleasure of seeing one of my masts fall. This time it was the 222 yagi that received the damage…a bent reflector. Luckily I was able to just bend it back in shape and move on.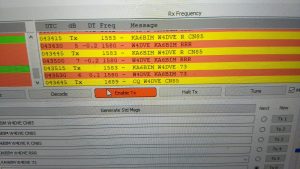 Things got moving pretty good. The contacts were coming quickly and fairly easily. I even took some time to try some digital work and managed to snag a few FT8 contacts on 6 meters. Good thing too. It got me into another grid I probably couldn't have reached on voice.
Into the night…
In a word…it was cold. I crawled into a sleeping bag and tried sleeping in the drivers seat. I leaned it back and it didn't take long for me to realize I wasn't 20 years old anymore. Needless to say, I didn't sleep much. The little bit of sleep I did get was interrupted by the bang of a mast falling into the side of my truck…twice. Both of them were determined to leave their mark in more ways than one. About 5:30am I decided it was time to give it up and see who was on. It wasn't until after 7:00am that I made my first contact of the day. At least it left time for coffee.
After all this, I can honestly say the fun factor beat the frustration of it all. Between the broken yagi, masts falling, rain, snow and cold…I managed 191 contacts for a claimed score of 5733. Of course the contest scoring machine will make the necessary corrections so we'll have to see what the final is. But all in all, a good contest effort.
This video is a short tour of my setup inside.
This video was shot by my buddy WB7TIM of us working each other on 33cm.