Ok, so I decided to start purchasing equipment and started with the antenna.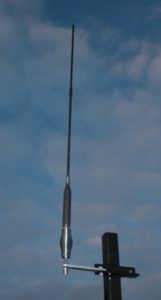 I decided to go with the Chameleon V2 antenna for my mobile install.  It's an HF/VHF/UHF 4'2″ antenna. I know, the shorter antenna might not perform as well, but I don't want some un-godly looking antenna towering 4 miles above my truck.  Reviews say this one performs reasonably well and should suit my needs just fine.  I just have to make sure it's well grounded and installed in the right location. I also picked up a spring for mobile use.
Heading out this morning to find a mount for the antenna.  Not sure what all my options are, but pretty close to unlimited.  Planning this part seems to be the thing that's giving me the biggest head-ache…so far.  The big purchase is next.  I have a stack of $100 bills saved up for buying the radio, tuner and duplexer.  I'm going see how well my negotiation tactics have come along.  I'm hoping Uncle Benny will do most of the talking.
Stay tuned…